[ad_1]

Nearly a dozen people participated in a die-in on Howard and 3rd streets outside the Moscone Center Thursday afternoon. The die-in lasted nine minutes — representing the nine months since the COVID pandemic, which is rampaging around the country and has killed more than 250,000 Americans.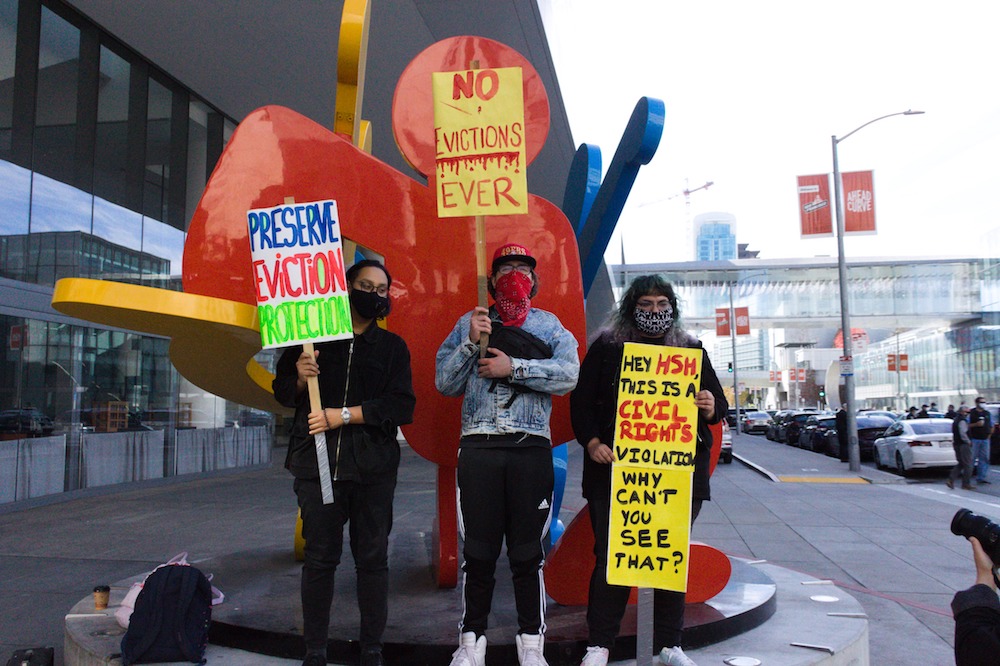 Die-in participants denounced the Breed administration's plans to end the shelter-in-place hotel policy, but also gathered to celebrate the city's agreement to reinstate the Shelter Grievance Policy at congregate shelters and SIP hotels in the future, which was announced in a message to organizers.
The SCG is a due process appeals procedure available to people being evicted from homeless shelters created by the Shelter Grievance Advisory Committee in 1992. The SGP gives those being evicted a right to representation — preventing shelter evictions without just cause.
"The first part of the die-in is an actual celebration," said Keegan Medrano, policy director from the Coalition on Homelessness, which co-organized the die-in, along with the Eviction Defense Collaborative. "Our two month-long campaign has successfully put pressure on the city around ensuring that the grievance policy is re-implemented."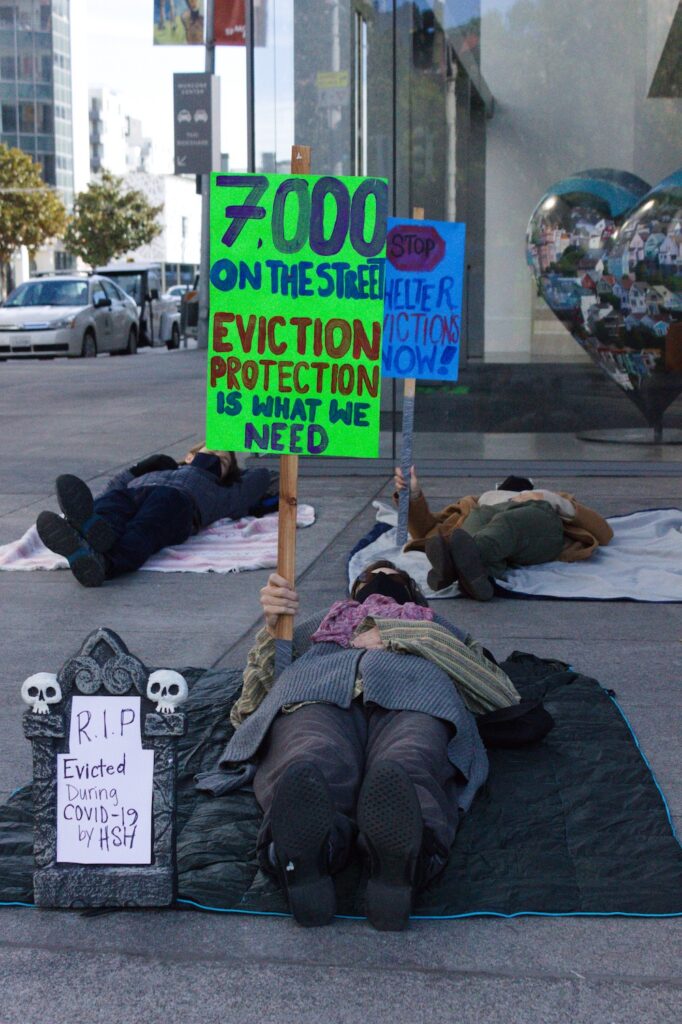 The Department of Homelessness and Supportive Housing had tried to replace the SGP with its own grievance policy in September, called the AHS Exit Policy, which would have largely gutted the due-process components around shelter evictions and would have left homeless people kicked out of shelter with little recourse to getting another shelter bed during a pandemic, Medrano said.
What's more, the SGP has largely been a success, with 80 percent of residents who were asked to leave returning to a shelter, Leah Simon-Weisberg, directing attorney of the Shelter Client Advocates Program at the Eviction Defense Collaborative, said. That spurred advocates to push for its implementation in SIP hotels as well as congregate shelters.
"We have a rate of about 80 percent," said Simon-Weisberg. "So 80 percent of informal hearings and arbitrations result in the folks' return to their shelter site. That's pretty amazing, considering they have generally been kicked out, and then are able to return."
The SGP has never applied to the SIP hotels, were complaints were instead handled by emailing or calling the CCC grievances hotline, but the HSH has admitted that the CCC's hotline has been generally understaffed, according to Simon-Weisberg. Now, advocates are demanding that the SGP be implemented in hotels due to the need for accountability and the policy's demonstrated effectiveness.
Part of why the SGP is important, EDC Shelter Client Advocate Ben Baczkowski said, is that many of the eviction cases that are cited as incidents of violence, drug use, or other well-documented reasons for eviction are much more complex.
"The city has said that they haven't been evicting people, and that you can only get kicked out if you are violent, and that's just not true," Baczkowski said. "The majority of cases that I've seen have been women who have had to deal with sexual harassment or other things of that nature and when they complain about it they get retaliated against because there is no standard having to show that an incident happened. There's always two sides to the story, and we're just here to make sure that the balance of power isn't skewed to the side of authority."
Another reason that the grievance policy is important is that a system of accountability in place prevents bad actors from acting with impunity, a system which the SIP hotels currently lack, according to Simon-Weisberg.
"People think twice about arbitrarily kicking people out of shelters because they know they are going to have to go through this process, whereas with the hotels, who knows what's going on? And it cannot be lost on any of us that the shelter providers want this process too, yet it's the city that's preventing it. It doesn't make any sense," said Simon-Weisberg.
That said, Baczkowski acknowledged that most shelter staff are doing their best at a very hard job, one that often pays little.
HSH has not responded to my inquiry seeking details on a timeline for when the SGP would be implemented in hotels, but stated in their message to organizers that they would need to include the Department of Health prior to the SGP's implemention in hotels. DPH has the final say as to whether a person is reinstated in a shelter based on their "COVID status." HSH also has yet to responded regarding my question as to whether someone would be placed into a SIP hotel room if they were COVID positive at the time that they would be returning to their shelter.
Although the HSH has agreed to re-implement the grievance policy, Medrano is not letting his guard down.
"Our demands are shifting to now ensuring that it actually gets implemented," Medrano said. "In the letter that we got back from HSH, they were kind of like 'we need to include DPH,' and we just want to make sure that including DPH isn't just another hurdle, or a way to obfuscate the process, but that they will include DPH and think about how to mindfully implement the shelter grievance policy within the expectations and understanding of COVID."
It is not hard to see why the rules are unclear. The Breed administration and HSH announced last week that they would close all 29 of the city's SIP hotels between now and June 2021, evicting 500 residents by December 21, a move that outraged many of the supervisors.
Sups. Matt Haney, Hilary Ronen, Shamann Walton, and Dean Preston Thursday morning announced a plan to introduce legislation next month to keep the 2,300 SIP hotel rooms in San Francisco operating. The mayor has defied legislation from the Board of Supervisors around the SIP hotel room program in the past—the current number of open hotel rooms is roughly only a third of what was specified in the board's legislation back in April.
The future of the SIP hotel room program remains uncertain, but RK Johnson, an organizer with the Coalition on Homelessness said that one thing was certain—they would continue to organize even if the SIP hotels close.
"Our work isn't done. If the SIP hotels shutdown, they will still be sending people to the streets."
[ad_2]

Source link