[ad_1]

With Thursday marking World Day Against Trafficking in Persons, local members of a new Facebook group called Southwest Missouri Child Trafficking Awareness held a demonstration in front of Joplin City Hall on Main Street to bring attention to the issue.
Amber Arnold, demonstration leader and local organizer of the Facebook group, said the event was the group's first of many rallies to be held in the region. The Southwest Missouri group was formed last week and already has nearly 2,000 members, she said.
Demonstrators, who numbered about 20, held signs and distributed educational pamphlets about child sex trafficking to the public.
Arnold noted that the demonstration idea came from the Operation Underground Railroad Foundation.
"OUR inspired me to have this," she said. "I saw that there wasn't a demonstration in Joplin, so I reached out to them, asked if we could hold one, went through all of the paperwork and got it done. We'll be doing another event in September."
OUR is a nonprofit organization that says it focuses on paving "the way for permanent eradication of child sex trafficking through rescues and recovery planning."
The World Day Against Trafficking in Persons observance also was recognized by the Joplin Police Department's Chip Root, who also is commander of the Southwest Missouri Cyber Crime Task Force.
With today's technological capabilities, he said, children can be sex trafficked without even having to leave their bedroom.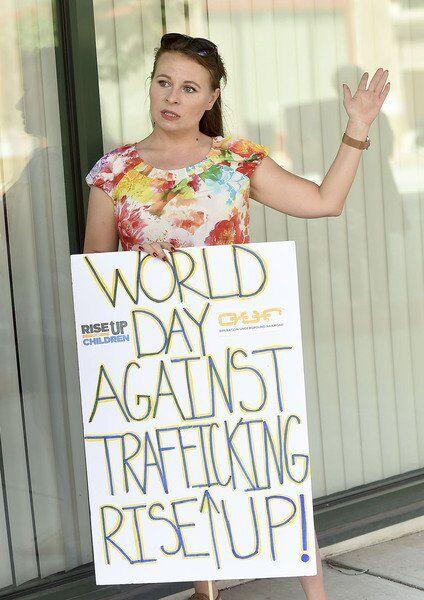 And the COVID-19 pandemic has only exacerbated child sex trafficking crimes, he said. With less children attending places such as schools and day care centers, the number of reports to the National Child Abuse Hotline has dramatically decreased over the past few months.
"It's really dangerous times because of the COVID-19 pandemic," Root said. "We have an incredible amount of children confined to their homes or at a relative's. They're not venturing out as much as they were. We've seen a really alarming decrease in child abuse reports being submitted to the Child Abuse Hotline, yet we're seeing an equally alarming amount of cyber tips being submitted through the National Center of Missing and Exploited Children. It's really a scary time because with the children being sequestered to their homes, and they themselves have a greater access to the internet, it places them at greater risk of being victimized via the internet."
The Southwest Missouri Cyber Crime Task Force investigates technology-related offenses involving children as victims for 22 Southwest Missouri counties, including Jasper, Newton, Barry and Barton. Its service population is over a million people. The task force reported that 899 cases were opened last year, a 37% increase over 2018, according to its year-end report.
Root said the task force also seen an increased number of offenders who are attempting to communicate in online groups or other internet-based technologies to perpetuate these crimes against children.
"It's compounded with the courts being shut down, and it's really difficult to even get search warrants," Root said. "We have a massive caseload backlog, which is troublesome because we don't have our normal access to our court system. They've opened the courts a little bit, but we still have people waiting to be charged based off of this. It's really concerning."
Ghada Waly, executive director of the United Nations Office on Drugs and Crime, said in a statement that human traffickers exploit people for profit every day all over the world, with nearly one-third being children.
"COVID-19 has amplified trafficking dangers," Waly said in a statement. "Loss of jobs, growing poverty, school closures and a rise in online interactions are increasing vulnerabilities and opening up opportunities for organized crime groups."
There are several forms of child trafficking, including forced marriage, migrant farming, begging, sweatshops, pornography, sex tourism, domestic labor and armed groups, according to the United Nations Children's Fund USA, an agency that provides humanitarian and developmental aid to children.
Demonstrations
Arnold said her group is striving to combine their own local resources with Operation Underground Railroad's resources to help educate the public on the trafficking issue.
"They come and assist the police in any way they can," she said of OUR. "They have K9 units and specialized task forces that can help with anything that we need and after-care as well."
As a mother, Arnold said, it's an important cause for her because she can't help but see her son's face in the face of missing or exploited children.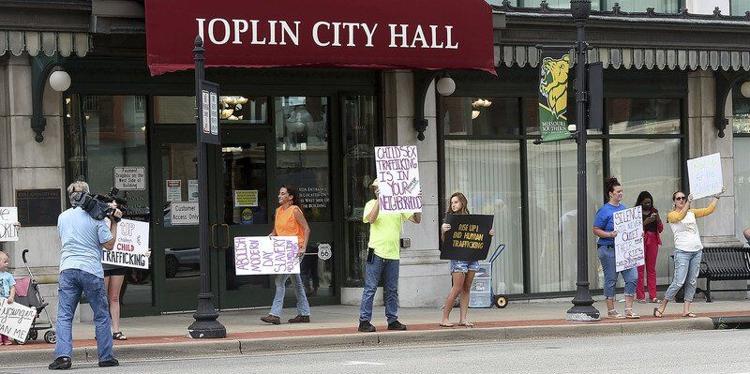 "I see his face in all of the kid's faces, all of these victims, and I think, 'What if this is my child?'" she said. "And if it was, I would want the community helping me to get him back and to have awareness to keep it from happening to begin with."
Michael Hannington, of Webb City, was one of the few men participating in Joplin's demonstration on Thursday afternoon. He held a sign saying, "Where are the children" and said it was important for him to be there.
"I have a niece that I care about a lot," he said. "I don't have any children of my own. But I just want people to be more cautious and be aware. This sort of thing does go on."
[ad_2]

Source link