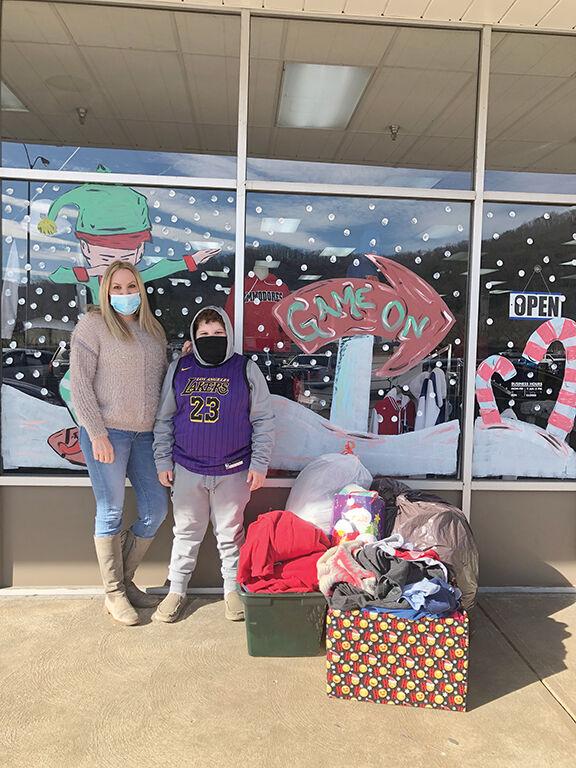 This month, 10 year-old Shade Combs, a fourth grade student at East Perry Elementary School, held a winter clothing drive to benefit the homeless population in Hazard and Perry County. From Dec. 14-22, Combs, with the help of his family, friends, local businesses and the community, collected several winter clothing items for the homeless.
"He's always had a heart for the homeless, since he was five he's had a jar in his room that says 'change for the homeless,' so we try to donate here and there when we can," said Katie Combs, Shade's mother. Katie said that, while on break from school, her son asked she and her husband if there was something he could do for the homeless during the winter. Shade, she said, decided to hold the "Share the Warmth" winter clothing drive to collect items that would keep the homeless people of the area warm since there is no longer a homeless shelter in town.
"I was just thinking about then and was like 'you know what? this year has just been hard for people so we should go as big as we can'," Shade said. "It means a lot to me. Being able to help people is one of the things I wanted to do."
Shade said he wants to make it an annual event if possible.
During the clothing drive, drop-off locations were set up at Game On, Kentucky River Finance and June and Joy's Children's Boutique. Hundreds of items were donated during the drive, said Katie. In total, she said 49 adult coats, 19 youth coats, 47 scarves, 134 pairs of gloves, 111 knit hats, 12 pairs of socks, two blankets, two pairs of sweatpants, five pairs of thermal underwear, two snowsuits and $300 in monetary donations were collected during the "Share the Warmth" drive. The items, she said, will be distributed throughout January.
The "Share the Warmth" drive, said Katie, is not something done for recognition or praise, it was just something about which her son cares deeply and she hopes it inspires others to help people, too.
"I am proud of him, I'm glad he wanted to do that. I do think there are a lot of ways everybody could get involved," Katie said. "I think it's a good example for kids and adults that we need to do something for others not just ourselves."