[ad_1]

Starting Blanket Blessings, which delivers blankets to the homeless, inspired the 12-year-old to look for other ways to give back.
Logan Dior Williams knows firsthand how a simple act of kindness can bring light to someone's day. 
On a cold winter night in 2018, Williams was on her way to theater rehearsals when she noticed a homeless man. She asked her mother if she could give him their emergency blanket they kept in the car so he could keep warm for the night. 
"I thought of myself in his position," Williams says. "I feel like we were all put on this earth for something. It was at that moment I realized my purpose was to give back." 
A few months later, she had a party and talent show for her 10th birthday at the Fairfax Recreation Center in Cleveland. Instead of collecting gifts for herself, she asked if her friends could bring blankets for the homeless. More than 300 blankets were collected that day. 
"I just try to find a fun way to involve other kids so they can take it back to their home," Williams says. 
That day inspired Williams to create Blanket Blessings later that year. The grassroots organization aims to collect blankets as well as promote goodwill for homeless shelters and community centers in Cleveland. Every winter, Williams packages the donated blankets and quilts she receives with an affectionate message and distributes these gifts to homeless communities and people on the street. 
"I get a lot of 'God Bless You' and compliments when I pass them out," Williams says. "That little note and these gifts go a long way. It means someone is looking out for you. Someone loves you."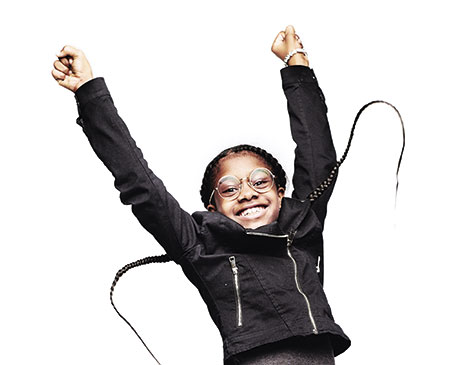 Williams also dedicates her birthday each year to a special cause. Last year for her birthday, she and a few of her friends at school spent the day learning, volunteering and caring for pets from a local animal shelter. They also collected items to donate to the shelter. For her 13th birthday next February, Williams plans on selecting 10 of her peers to "Adopt-A-Senior," where she will ask and encourage them to dedicate one month of service to a senior citizen. 
In an effort to reach more kids like herself, Williams partnered with Wish Cleveland to lead the "Together at Home" campaign to engage children in helping to make their community a better place through small online challenges such as posting photos of their pets, engaging in a healthy action and enjoying time outside as a creative way to connect others in their neighborhood. 
"We wanted to provide the ability to give back and be generous, no matter where you are in the world," says Williams. 
For Williams, who is a National Ambassador for Giving Tuesday Now Kids, she tries to remind others in the community that you're never too young to make a difference in the world. Her aspirations are to become an architect to build a homeless shelter that will provide services for people in need to pay for food, expenses and school for children. Yet, her future remains here in Cleveland. 
"I want to become the first African American woman mayor of Cleveland," Williams says. "I will make sure we're coming together as a community to help those less fortunate. We're Cleveland, that means everyone sticks together." 
[ad_2]

Source link