[ad_1]

On a February morning, after a cold night in downtown Reno, Randolph Pena sits in a wheelchair against a chain-linked fence, wearing a zipped-up hoodie. Behind him, there are rusty old train tracks. In front of him is a row of tents. He says one of them is his. 
When it's cold on nights like the last one, Pena says he'll "blanket up." 
"[We] go get more blankets," he says. "But it's too cold. It was cold last night."
Pena, 60, was one of more than 150 unsheltered residents living in a narrow strip of land between the back of the Greater Nevada Field and railroad tracks in downtown Reno. Shortly after Pena spoke with The Nevada Independent in February, Reno police officers cleared the area as part of a series of regular and controversial cleanups of encampments, telling KUNR that there were reports of people lighting fires in their tents to keep warm and bags containing human waste. 
Amid a global pandemic and an unforgiving job market that's spurring housing insecurity, Nevada's decision makers are grappling with ways to balance concerns that homeless individuals are creating safety and sanitation problems, with the reality that there are not enough resources to protect unsheltered populations from the harsh elements of the environment.
Reno temporarily suspended homeless camp cleanups at the onset of the pandemic. But the city soon resumed cleanups, holding its first "clean and safe operation" on May 4 at Evans Park and conducting about 167 more cleanups into November, according to a presentation from the city on Nov. 18. That does not include cleanups conducted by the Nevada Department of Transportation.
Citing environmental hazards posed by unsheltered populations living outdoors and Reno residents' complaints, city officials said the cleanups were necessary.
The cleanups, supervised by Reno's "Clean and Safe Team," collected more than 480 biohazard gallons and 2,699 cubic yards of waste since cleanups began in January. The city formed the Clean and Safe Team after receiving a notice of violation from Washoe County public health officials, according to Cynthia Esparza, a senior management analyst for the City of Reno.
"At the core we're seeking to improve the health and safety of public spaces — that is the underlying mission of everything that we are doing," Esparza said.
Records from city council meetings show that before a cleanup takes place, a sign and other notifications should be posted at camps, providing residents with at least 24 hours notice to vacate and offering storage, resources and services. 
The Clean and Safe Team will then identify, tag and store property at the Community Assistance Center for up to 90 days. 
Though the minimum time frame is 24 hours notice, John McNamara, the operations chief for the Reno Fire Department, said that the city usually notifies camps a few days before a cleanup takes place, having Reno police and social service workers walk the area to offer assistance and connect homeless individuals with services.
Environmental hazards
In the Reno-Sparks area, about 85 percent of the public's water supply comes from the Truckee River. 
During a Community Homelessness Advisory Board (CHAB) meeting in November, representatives from One Truckee River, a group of public and private partners managing the Truckee River, said that stormwater sampling and analysis of 11 fixed sites on eight tributaries of the Truckee River showed elevated concentrations of contaminants. The group also found higher levels of E. coli in the river.
Though documentation noted that the source of E. coli could not be identified, authorities posited that lack of public restrooms and people living in encampments near the river contributed to the contamination.
Despite the contamination, the water treated by Truckee Meadows Water Authority (TMWA) is safe to drink, according to Andy Gebhardt, the director of operations and water quality for TMWA. He said that two water treatment plants on the river process and treat the water. Workers have had to remove various objects such as colostomy bags, catheters and hypodermic needles as well, Gebhardt added.
"Everything that you put in the Truckee River, we have to take out," Gebhardt's slideshow read during a presentation to CHAB in November. "We can treat pretty much anything … but we shouldn't have to."
To reduce the waste going into the river, TMWA proposed placing bathrooms in the area for people to use. In August, TMWA, Reno, and other organizations installed the first of what will be nine to 18 public restrooms as part of the city's River Restroom Project. This type of public restroom, known as a "Portland Loo," debuted in Portland, Oregon and has since been set up in cities around the U.S. and Canada.
The river sweeps and cleanup programs, however, are controversial. Organizations advocating for unsheltered people emphasize that nothing prevents individuals from returning to the banks of a river after a cleanup takes place, especially when people have nowhere else to go. 
The blame for environmental and safety issues does not lie on people without resources, argues Aria Overli, a community organizer with progressive-leaning nonprofit Acting in Community Together in Organizing Northern Nevada (ACTIONN). She said the problem lies in a lack of resources such as accessible public restrooms, trash disposal options and mental health care and addiction services.
The question officials should be thinking about is the environmental effect of people living in houses compared to people using almost no resources, Overli said.
"It's very difficult to believe that unsheltered or houseless folks are using more environmental resources than I am, so I think that's a narrative that we need to change," Overli said. "I would argue that there are structural factors that cause environmental damage to be done in a way that gets scapegoated on unsheltered populations."
As the pandemic devastates the local economy and an influx of evictions looms on the horizon, advocates also question the ethical and legal implications of continuing encampment cleanups. The Ninth Circuit Court upheld a decision in Martin v. City of Boise that a municipality cannot arrest or punish people for sleeping on public property when no space is available in shelters or other indoor facilities. 
The stress on city shelter space and lack of ability to house the homeless population in the area has not halted cleanup efforts. A city spokesperson said that because there are still beds open at the shelter each night, the city is within its right to continue cleanups.
With a combined shelter capacity of about 797 people in Washoe County and an estimated 1,778 people experiencing homelessness in Washoe County in September, there is not enough space to safely house every unsheltered individual in the county. 
Local leaders recently announced an ambitious shelter project with wraparound care services. The shelter will not be completed until sometime in February, and fears remain about what will happen to people living outdoors as temperatures continue to drop.
A 'vicious cycle'
Before the pandemic, Susan Cameron, a social worker with Catholic Charities of Northern Nevada, visited homeless encampments, offering aid. She said many people feel safer outdoors.
"A lot of individuals have anxiety, PTSD, are dealing with past trauma or abuse or they've had bad experiences with the shelter. Some have reported theft or being assaulted," Cameron said. "A lot of individuals do actually have pets that they're not allowed to take, their significant others, girlfriends, boyfriends or they have friends and they've kind of built up a community sometimes too, where they just don't want to be separated." 
Cameron noticed that homeless encampment cleanup efforts had forced populations more toward the suburbs, spreading further away from the centralized services near the downtown area.
"It certainly makes it much more difficult for clients to come in to the resources here at Catholic Charities or other places downtown when they're dispersed," Cameron said. "So that makes it much more difficult for them to access services and probably less inclined to."
After the sweeps along the railroad tracks in February, Cameron said that many new camps sprung up further from Fourth Street and underneath highway overpasses.
Almost 10 months after the cleanup along the railroad tracks, encampments returned to the south side of the river, said McNamara. He described the cleanups and subsequent movements of encampments as a "vicious cycle."
The haphazard setup of the encampments means that tents and other structures can easily catch fire, McNamara said. The highly flammable tents, plastics, trash, and other combustible materials in the encampments can also create toxic smoke and present dangers to both the surrounding landscape and the encampments' inhabitants, he added.
"I don't have a solution," McNamara said. "I know that the people who work for the city of Reno, they're doing their best to have positive outcomes for everybody, and it's really a no-win situation right now."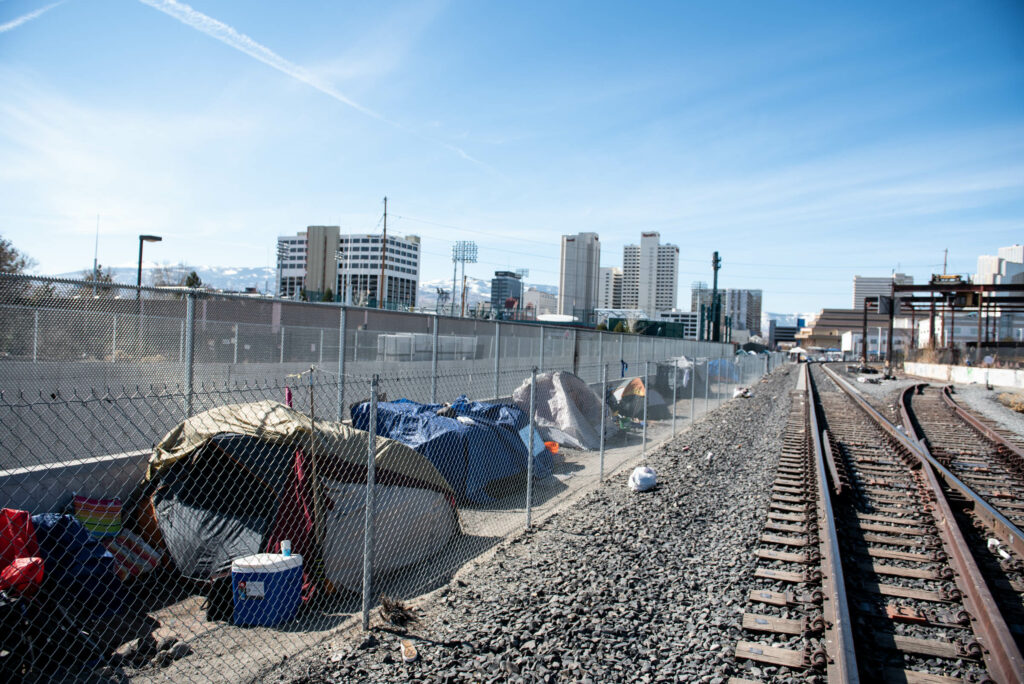 A man who uses the nickname "Forest" said he was living at the train tracks for two or three months when The Nevada Independent spoke with him in February. Before the tracks, he lived by the river, at the fisherman's pier, along Kietzke Lane and a few other places.
"Usually in less than a month, the officials see fit to roust us. And so once we're rousted, we have no choice but to pack it up and roll out and just hope and pray that we can find a place where we can stay a little bit longer to adjust ourselves," Forest said. 
He said many people he knows are working on trying to earn money, but housing is expensive and stable work can be challenging to find, especially for someone living in a tent.
"Contrary to popular belief, we're all not derelicts, not wanting to do anything with our lives. Some people … they work, they have jobs, they have incomes of some sort, and they're just trying to find a way off the streets," Forest said. "The shelters are too full — what can you do?"
Framing the cleanups
Officials worry about the threat unsheltered populations face when living outdoors and dangers responders face when answering calls in the community. As heat waves, wildfires, flooding and other natural disasters spurred by climate change increase, unsheltered individuals are most at risk of unexpected environmental changes. 
Since Jan. 1, the Reno Fire Department has responded to more than 290 nuisance fires, McNamara said, including many connected to fires that encampment residents are using to cook and stay warm. Reno municipal code states that individuals cannot have fires on city property, and the fire department has to enforce it, McNamara said.
In the winter, first responders see an uptick in emergency calls about people suffering from hypothermia, and the freezing temperatures during the winter in Reno present the fire department with difficult choices.
"Trying to tell people that they can't have those fires, no one wants to do that, whether it's fire or PD. No one wants to make their lives miserable," McNamara said. "Our goal is public safety."
Reno's winter winds can fan a fire quickly, and McNamara said he worries about unwatched fires that spread along the river, via bushes and within encampments formed from homemade structures that he described as "death traps." Homeless people seeking shelter in abandoned buildings and accidentally starting fires also present dangers to firefighters responding to a blaze because those types of buildings are usually structurally unsound, McNamara added
Biohazards such as knee-deep trash, fecal matter, urine, syringes and other unsanitary conditions he has seen in the encampments necessitate cleanups, McNamara said.
Though the homemade tent shelters are not always up to fire code, Overli said that many people approach them with ingenuity, using duct tape and blankets to rig up tent-like structures to prevent themselves from freezing in the cold winter months. Continually upending camps means that people have to deconstruct the shelters they've built, exposing themselves to the elements, she said.
Overli said she wouldn't necessarily disagree with the argument that the cleanups are needed to help protect people. Still, she said part of the problem lies in how city officials and others are using the cleanups to hide homelessness from public view.
"I think that the problem is that cleanups are being framed as, 'we need to keep these spaces clean so that wealthier people can come into these spaces and feel safe and appreciate the river rather than, 'this is a human rights issue that we're allowing people to live in these situations because we're refusing to provide the resources,'" Overli said.
Facing a severe housing crisis
Officials in the region hope to reduce the need for homeless encampments and cleanups with a soon-to-be-built, 46,000-square-foot central shelter facility referred to as the Nevada Cares Campus, which will have space for men, couples, pets, a designated campground and health care services.
The campus is the product of a joint agreement between the cities of Reno and Sparks and Washoe County and is supported by about $16.8 million in congressional coronavirus relief funds. The new facility, approved by an almost unanimous vote on Nov. 18, came after city and county officials closed a temporary shelter at the Reno Events Center in favor of another shelter along the East Fourth Street corridor and searched for a more permanent structure that could better meet social distancing needs.
"Having a more centralized location, a bit more organized, the hope is that it will reduce the scattered nature of the camps and will, thereby reduce the need for so many cleanups," Reno City Councilwoman and CHAB Chairwoman Neoma Jardon told The Nevada Independent.
Though some individuals may prefer a larger shelter environment, others may want more privacy and their own space outdoors, Jardon said. The Nevada Cares Campus will feature a safe campground facility with security, trash cans and the ability for residents to access showers and pitch a tent without having to stay within the congregate shelter.
"We hear a lot about the benefits of [safe campgrounds] and why some choose that and why it's so needed," Jardon said. "We want to see what successes may come of it and what failures."
Overli applauded the Nevada Cares Campus as "an incredible move forward" in addressing unsheltered communities' needs but emphasized that relying on shelters is not a long-term solution.
"As COVID has further worsened an already severe housing crisis, and we are expecting to see record evictions in the new year, we must do more to address the severe shortage of affordable housing, lack of tenant protections, and lack of resources for addiction and mental health, as well as overdependence on police to solve social problems," Overli said.
Reporter Daniel Rothberg contributed to this story.


[ad_2]

Source link