As of October 2020, 4.14 billion people across the planet are social media users, equating to 53 percent of the total global population. Social media platforms such as Facebook, Twitter and Instagram continue to be popular means of communication, disseminating and receiving information and entertainment, among others. 
With the current global pandemic, observers believe that more people are now avid social media users as they stay home more frequently due to virus preventative measures. The Harris Poll found that between late March and early May, 46 percent to 51 percent American adults reported using social media more often than before the pandemic.
While social media have become tools to connect with friends, families and colleagues – the problem with their popularity, especially among children is they increase the risk of being exploited by criminals such as human traffickers. 
Unfortunately, human trafficking has been around long before the internet, but traffickers have now found a way to harness this tool to their advantage. Anyone can be a victim of human trafficking; however, women and children are typically the main targets. 
The Committee on the Elimination of Discrimination against Women (CEDAW) recently warned of a global rise in "trafficking in cyberspace" in recent months. The committee has also called on social media platforms to use big data and artificial intelligence to help eliminate trafficking in women and girls, amid an increase in online traps designed to recruit potential victims during the health crisis.
"The global pandemic has revealed the urgent need to address the use of digital technology in and against trafficking," said committee member Dalia Leinarte. "Combatting trafficking also entails discouraging the demand," she added.
Online, demand has been channelled "through social media, dark web and messaging platforms" which provide easy access to potential victims, but hide the identity of the perpetrators, notes the CEDAW.
Online Grooming, Cybersex
In recent years, more and more children and teenagers have social media accounts. According to a Pew Research study, 95 percent of teens between the ages of 13 and 17 reported having access to a smartphone and nearly half of them indicated that they are active online. 
Therefore, criminals are also shifting online to target vulnerable groups such as the young to expand their activity. 
Stop The Traffik, a campaign coalition aims to bring an end to human trafficking, said that grooming is often the first phase and can be the gateway to further exploitation or trafficking.
"Common patterns involve traffickers sending friend requests to huge numbers of people, in the hope that some will accept. Alongside social media, online gaming sites and dating apps are the most common places where traffickers target their victims as they involve interactions with complete strangers," said the group on their website.
Jarrod Sadulski, a faculty member at the American Military University writes in his article titled "Human Traffickers Use Social Media to Target Children," that traffickers tend to use social media to develop a relationship with their intended victims. They would online-stalk targeted victims or impersonate someone using a profile of someone the intended victim might trust. Traffickers would also exploit vulnerabilities such as purported common interests between the trafficker and the victim to gain trust.
A number of things can happen once trust is gained, that includes encouraging the victim to meet the trafficker or even to send compromising pictures – which is then used to extort the victim, explained Sadulski.
In its 2018 study titled "A Roadmap for Systems and Industries to Prevent and Disrupt Human Trafficking," non-profit organisation Polaris Project released a matrix of some of the intersections that diverse social media platforms may have with victims and traffickers of various types of trafficking.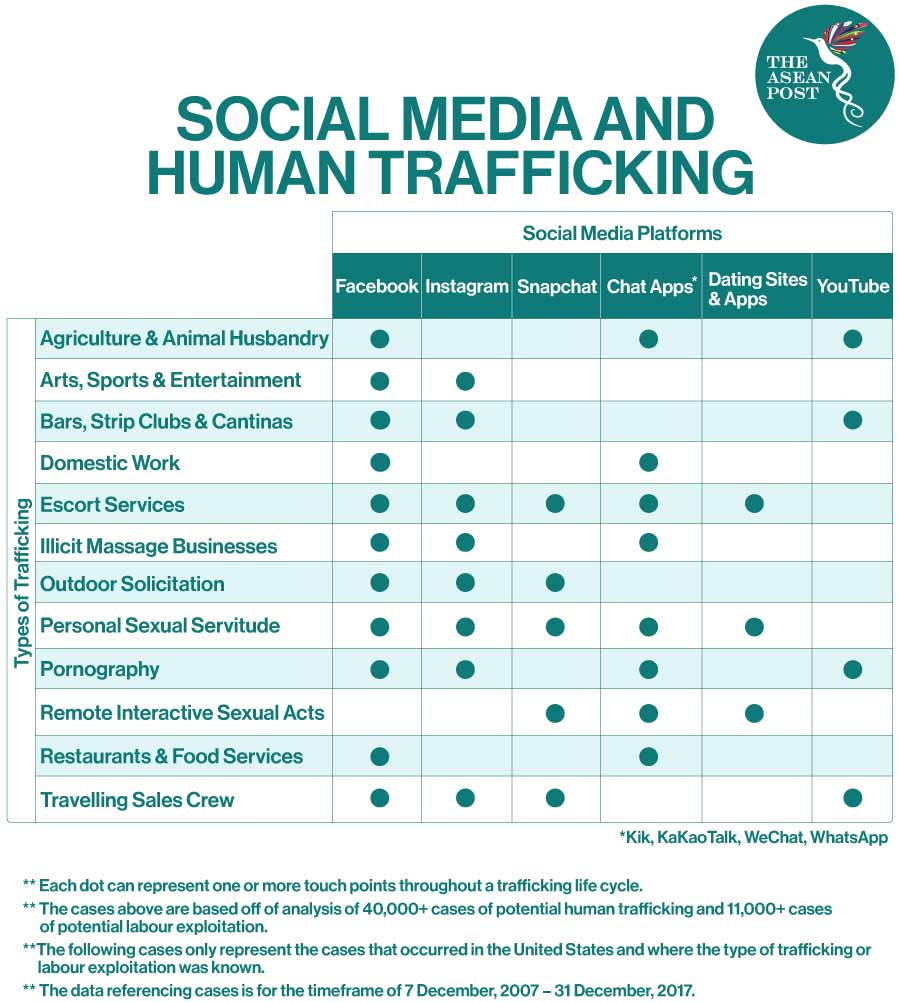 According to the matrix, social media giant Facebook is mainly used in touch points throughout a trafficking life cycle including during recruitment, to facilitate advertising, abuse, or overall business operations, or to support survivors during or after their trafficking experiences.
The Polaris Project study on social media and human trafficking was released two years ago. Unfortunately, as a huge proportion of the population is online during COVID-19, the problem has perhaps further exacerbated.
Human trafficking does not just occur in the US where the study was mainly conducted, but it is rampant in other parts of the world as well, such as in Asia-Pacific. 
It was reported that seven in 10 sex trafficking victims are in the aforementioned region. United Nations Children's Fund (UNICEF) also recently warned that cybersex traffickers are likely to exploit the pandemic to target more children across Southeast Asia for online sexual abuse.
Other than sex trafficking, victims may also be tricked into other types of human trafficking such as forced marriage, forced labour, bonded labour and child soldiers.
Related articles:
Human Trafficking Persisting In A Pandemic