[ad_1]

Friday, Nov. 06, 2020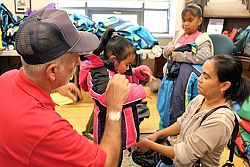 Courtesy photo/Utah Knights of Columbus
Over the past decade, the Utah Knights Coats for Kids event has provided more than 10,000 new winter coats to children in need. Donations are being accepted for this annual event, which is depicted in this photo from a previous year.
By Andy Airriess
Utah Knights of Columbus have been very busy despite COVID. In our parishes, in our communities and throughout the diocese, Knights continue to serve.  Blood and food drives, parish cleanups, raising funds for new winter coats for homeless and refugee children, cleaning graveyards, and much more; our motto continues to be "In Service to One, in Service to All."
The highlight of the past few months was our work at the Carmelite monastery. Over the course of three weeks, dozens of Knights from more than 20 of our parish-based councils assembled to help the sisters by clearing damage from the September windstorm to over 20 fallen trees and to landscaping and paths.  The sisters were quoted $16,000 by companies to repair the damage. The Knights not only did it for nothing, they raised funds to help offset the sisters' missed income from the cancelled Carmelite Fair.
"It was truly moving to see so many of our members come together to help the Carmelite sisters," said Knights of Columbus Utah State Deputy Nick Nielson. "It's activities like this that made me want to become a Knight."
Mother Therese Bui, the monastery's superior, wrote a letter to the Knights in which she said, "Words cannot express the peace and joy you have given us as we see our home restored and can once again walk along the nature paths in quiet communion with God."
This month, Knights will be conducting our annual Coats for Kids giveaways. Coordinating with groups such as Catholic Community Services and Shop with A Cop, we are holding regional events in the next month, and numerous parish giveaways as well. Since its inception a decade ago, Utah Knights have given away over 10,000 brand-new winter coats to children, based solely on need.
The thousands of hours and tens of thousands of dollars that we donate every year in Utah were made possible by the vision of Fr. Michael J. McGivney, who founded the Knights of Columbus in 1882. From its humble beginnings, the 2 million Knights around the world today donate over $180 million and over 75 million volunteer hours.  Following a miracle attributed to his intercession, Fr. McGivney was beatified on Oct. 31.  
"It is an honor to lead the Knights of Columbus here in Utah and to continue the vision and mission of Fr McGivney," State Deputy Nick Neilson said. "I always thought of the Knights as being a kind of miracle, and it is a special time in our history to see Fr. McGivney beatified. I hope and pray for the day of his canonization."
A Mass of Thanksgiving for the beatification of Fr. McGivney, concelebrated by Bishop Oscar A. Solis, will be celebrated at the Cathedral of the Madeleine on Tuesday, Nov. 17 at 7 p.m. The Mass will be televised on the Cathedral's YouTube channel.
In honor of Fr. McGivney's beatification, the Knights are offering a one-year free online membership. Interested adult male Catholics can find out more by inquiring at their parish, by calling 801-201-2865, or visiting kofc.org/joinus.   
Andy Airriess is chairman of the Utah Knights of Columbus Public Relations Committee.


[ad_2]

Source link